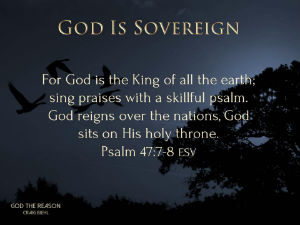 What difference does God's sovereignty make In my life?
1. It gives me courage to face my days
There are innumerable events and circumstances in our lives that are beyond our control. Fear and worry can haunt us, arrest us, paralyze us. If God is not in control, then I ought to be afraid! If I think this universe runs according to luck, I ought to worry. But when I see that He is there in the details, controlling, directing, ruling them for my good, I am strengthened and given courage to obey Him.
2. It helps me give thanks in adversity.
There is no such thing as pain without purpose for the child of God. He holds you and your sorrows in His mighty hand and is working in them an eternal weight of glory.
3. It humbles us in our planning
Humble yourself under the mighty hand of God and He will exalt you in due time. It is only If the Lord wills that will can do even the most mundane things in life. Don't take another step without considering Him.
4. It deepens our confidence in Him
God's question in Lam. 3:37 gets to the crux of the subject: "Who is there who speaks and it happens, unless the Lord has ordained [it]?" If no plan of God's can be thwarted by human actions or acts of nature, if He rides every storm and directs all things with purpose for His glory and my good, then He is worthy to be trusted with every fiber of my being.